The Huffington Post had an interview with the actress who plays Sophia Turner in this seasons two-parter of Castle.
Read the entire article here:
Jennifer Beals Teases Her 'Castle' Guest Arc And The Show's 'Magical' Duo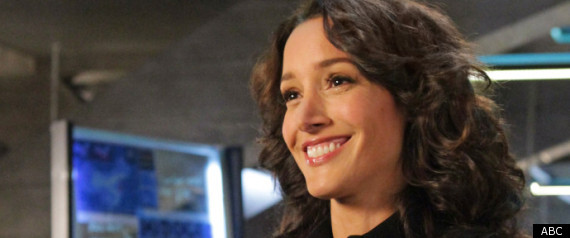 Jennifer Beals is returning to TV for a two-episode arc on "Castle," and her CIA agent character Sophia Turner will be stirring up emotions between Castle and Beckett. Could her history with Castle finally inspire Beckett to share her true feelings for him once and for all and maybe return those three little words?
In the upcoming episode, "Pandora" (Mon., Feb. 13, 10 p.m. EST on ABC), and its follow-up on Feb. 20, "Linchpin," the stakes have never been higher for Castle and Beckett as they work with Sophia and the CIA to solve an international conspiracy that could have a massive effect on the U.S.
I caught up with Beals, who was cagey about whether or not her past with Castle was romantic at all, but she did reveal that he shadowed Sophia years ago and modeled his character Clara Strike after her ... meaning Beckett isn't his first muse. She also talked about Nathan Fillion and Stana Katic's onscreen chemistry (calling it "magical"), whether or not this could spark a "Castle" spinoff for her character and, knowing that we begged for it, what it'll take to get her back on TV full-time.
First off, I miss "Chicago Code." Gone too soon ...I miss it, too. I love that character. She was such a badass. And I loved working with the CPD, and we had a great cast. I was just excited about it.
For this two-parter on "Castle," you're playing CIA Agent Sophia Turner, who at least feels a bit like "Chicago Code's" Teresa Colvin. Are there any similarities?Teresa is much more practical, and I think, tougher. On the outside, Teresa's much tougher. Sofia, on the inside, is steel. She has an intellectual capacity that's pretty intense at times. You know, Teresa's like Chicago ... what would be the word for it? Not muscular in the sense of the body, but muscular in the sense that like Carl Sandburg would've used the word. She's much more ready to get in and get things done herself if she needs to. But it's funny, I hadn't thought about that!
How did this part come about?First, I wasn't sure if I would do it. I wasn't very familiar with the show. I have friends who love the show, and who were really excited about the possibility. I went in and met with Andrew [Marlowe] and David [Amann] and they were really lovely and had interesting ideas, but I didn't have a script. So I just had to go on good faith and instinct, and I'm really glad I did.
Not to make more out of it before these two episodes have even aired, but knowing that it's a two-parter and that she has such history with Castle, this seems primed to be a spinoff. Well, um ... yeah, I mean ... I don't know that that's really possible. But, yes, I think it's a deeper relationship because he partially based his Clara Strike character on her. So the audience gets that little tidbit.
Yes, and with Beckett inspiring Nikki Heat, I'd imagine she's not too thrilled to meet one of Castle's former muses. Your character ruffles some feathers, doesn't she?Whose? Whose feathers would she be ruffling? [Laughs.] Beckett would have to speak to that herself, but I think it certainly complicates things a bit, because it's another person that she didn't know about. And I think it's probably a more important person because there was enough about this person that was interesting that he decided to put it into a character. So that might be problematic in some ways.
Was it a romantic relationship?You'll get to find out.
Did you have fun shooting these episodes? I love that set.I had so much fun working with those guys. I had fun playing her, but I really had fun on the set. It's like the hardest working crew I think I've ever seen. The longest hours ... and still so professional and lovely. Nathan is really fun to hang out with, and he just made me laugh all the time. And he's very Mr. Techno Guy. I am not involved with any social media whatsoever, and I'm just really proud that I have a phone with which I can text. [Laughs.] I have an iPad! I feel pretty red hot that I have an iPad, not that I really know how to work it to its fullest capacity. [Laughs.] So he introduced me to some different apps that were really fun. And Stana was really lovely, and they were both very welcoming. They're just so great together, onscreen. It's very, very interesting, because they're very different people, and then when they're onscreen together, it's just magical.
So Nathan hasn't convinced you to get on Twitter? He's kind of the gateway drug to Twitter.Well, you know, he is the king of Twitter. He got a prize for twittering. I didn't even know that there was a prize for twittering! If I twittered, I don't know what the hell I would say. He comes up with very funny, interesting things ... I don't have those kind of synapses happening.
It's serendipitous that we're talking today because I actually just included you in our list of 13 stars we want to see back on TV.Oh, that's so sweet! Thank you. I appreciate that.
Would you consider doing a show again so soon?Yes, I would consider doing a show again so soon, but it would have to be really, really good. I've been so spoiled. I was so spoiled with "The L Word," I was so spoiled with "Chicago Code." I just said to my agents and manager yesterday, "It has to be really special." We're in the renaissance of television right now -- I don't want to go and do something that doesn't have any meaning to me. It's either got to be really fun or it's got to be meaningful to me, and hopefully it's both.
What do you watch on TV?You know what I do love? I love "Enlightened." My god, Laura Dern is a genius -- just a stinking genius! I laugh really hard, and then in the middle of laughing, I'm crying. I love her character, I love the way she plays the character and I love the show.
"Castle" airs Mondays at 10 p.m. EST on ABC.