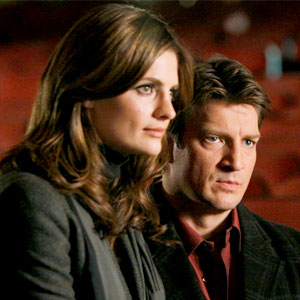 Nathan Fillion, Stana Katic and the rest of the Castle crew are floating five spoilers your way, and one of them has to do with a certain fan-favorite couple...
1. Just Kiss Already!
After nearly four full seasons, Caskett fans can stop crossing those fingers and toes because we've learned that things are finally going to progress! When we asked why it has taken so long, Fillion was very quick to defend their slow-moving flirtations, saying, "Our writers have been very talented and very deft about dealing with the ebb and flow of a relationship with two people who don't meet eye-to-eye." He continues, "We've been dealing with a lot of ebb lately, especially towards the end of the season, we're going to get a lot of ebb, but right at the end we're going to get some flow." Hooray for flow! Stana Katic also confirmed it, "Oh yeah, the end of this season you guys are going to be happy." She repeated with a coy laugh, "Any Caskett fans out there: You will be happy!" Squee!
2. Who's Your Daddy?: In the jam-packed two-parter "Pandora/Linchpin", fans were shocked when psycho Sophia (Jennifer Beale) revealed that Castle's father was involved in the CIA. Showrunner Andrew Marlowe assures us that the Daddy dilemma will be touched upon, but it might take a while to get an answer. "I think it's a little mystifying for Castle because he doesn't know if he can trust what Sophia said, and if your father is in the CIA, how do you find out? But it is something that we're going to be exploring as we move forward in the series." Start throwing out your dream-castings!
3. Firefly Fandemonium:
By now, you should already be well aware that
Adam Baldwin
is coming to reunite with his fellow
Firefly
castmate Nathan Fillion! And if you didn't well then, it's not like we're judging you or anything. (We totally are.) Fillion assured us that
Firefly
fanatics will be more than pleased: "I'm reading the script right now and I've already seen two
Firefly
references!" Baldwin will be playing Ethan Slaughter, a no-nonsense detective from the city's gang unit whom Castle is very eager to follow on a case and Fillion revealed that Slaughter is a very "Jayne character" on the show.
4. Más "Esplanie" Por Favor: Tamala Jones teases this on what's ahead for Lanie's love life: "I've been hearing little whispers on set. The writers are exploring the dynamic between Esposito (Jon Huertas) and Lanie; even though [they've] broken up, there's still something lingering." The kinda-sorta couple will be addressing the issues they had the first time around. "I think Lanie's problem is opening up completely, whereas Esposito is so open." We are rooting for this couple simply for the fact that their shipper name "Esplanie" is so much fun to say.
5. Galmance: Jones also was excited to share that for the first time Kate and Lanie are going to be seen outside of the precinct together for some bestie bonding. "We get some girl time and it's really nice. It's what you and I would be if we were girlfriends, the way we would talk, the realness, the passion, I hope you guys love it." Can we expect some Caskett gossip? "Oh for sure! And Lanie is not holding back on that subject. She is so pro [Caskett], but she's like, 'Get on it sister! It's been so long!"
Preach.