Stana must have been busy giving tons of interviews. Here you can find six new interviews.
Read them here:
'Castle's' Stana Katic: Castle and Beckett's sex is 'phenomenal'!
We didn't think we could possibly be more excited about "Castle's" Season 5 premiere on Monday (Sept. 24)...and then we talked with Stana Katic.

In case you missed the memo, Beckett and Castle (Nathan Fillion) are a full-on couple following their passionate hookup.

So naturally, our first question to Stana was, "How's the sex?"

"Phenomenal!" she replied. "Could not be any less than phenomenal."

"There's so many different kind of layers to lovers," she adds. (Anyone else get goosebumps when "Castle and Beckett" are described as "lovers"?)

"I think these two really enjoy each other, and enjoy exploring each other, both physically and intellectually. So I think what's going to be exciting for the new season is that we're going to get really cheeky."

Don't expect any PDA just yet though. "The NYPD has a strict policy about coworkers dating -- they don't allow it," notes Stana. "So Castle and Beckett are forced to keep it quiet because they risk losing the working relationship. They're obviously a powerful crimefighting duo and aren't willing to compromise that. They have to be lovers [!!!] on the sly and keep it quiet for a while."

Or try to, anyway.

"It's difficult to keep a secret like that in a room full of detectives," admits Stana. "So that adds to the complication -- sometimes a subtle glance or a telling word is said in the precinct that could threaten to blow the whole thing up."

Stana starts laughing just thinking about certain scenes. "So you see these two characters facing that and also confronting each other about missteps they have along the way," she says. "Which is great fun -- it's really a joy to play."

Castle and Beckett "are getting to know each other in a different way," Stana notes. "They've been good friends obviously for a few years now and wonderful coworkers and at this point they're lovers. That opens up a whole different bag of worms."

Like, for instance, Castle's two divorces. "I think what we'll discover is perhaps what happened to those failed marriages," she teases, finally asking, "And how dedicated can he be to a relationship that means more than a one-night stand?"

What do you expect to see from Castle and Beckett as lovers? Don't forget (as if) to tune in to the Season 5 premiere, Monday, Sept. 24 at 10 p.m. on ABC.
------------------------------------------------------------------------------------------------------------
'Castle's' Stana Katic Reveals Why Beckett Will Be More Dangerous This Season

No season premiere is more anticipated than "Castle." Last spring, the finale ended with Castle (Nathan Filllion) and Beckett (Stana Katic)falling into bed together after four years of sexual tension. The premiere opens with a steamy yet sweet morning after scene that will melt Caskett shippers hearts but quickly delves into more serious territory, when Beckett is pulled back into the investigation of the conspiracy responsible for her mother's death. Katic explained why the premiere is both a beginning and an ending for Castle, how being in a relationship with the man of her dreams will change her and why Beckett will be more lethal this season.
Learn more about Castle on the show's official website.
What was it like filming that sexy morning after scene with Nathan Fillion?
You have played the tension between Beckett and Castle for all these years. What was it like finally letting it all go and showing the relaxed, playful side of Beckett that the audience has never really gotten to see?
I think that's going to be kind of the theme of this season. We're seeing both of these characters in the inside of a meaningful relationship. That's part of the charm of this season, and part of the cheekiness of this season is discovering what it means to be inside a relationship with those two characters. Beckett dated Josh and Castle had a couple relationships here and there. But we've always been pretty much on the outside of those experiences. We're discovering all of the wonderful journeys that those two characters would make when they're getting to know each other that way.
Beckett learns a lot more about her mother's death in the season premiere, and it leads to a very powerful scene. How would you describe it?
Beckett's facing the biggest battle. It's definitely a powerful moment for the character. It's interesting because it's a chapter end, in a way. It doesn't mean that the story's not going to continue. What it means is we gave an arc to that character. We started off rather emotional about that part of her life and reactive and unable to process that in a way that would make her ineffective. And what we've seen is whether it's from the guidance from [Castle] who constantly pushed her to stay focused on the evidence or from the wonderful help that the rest of the team offered her, she learned to think more clearly about that and in the end be more lethal. She's a different girl this year. She's more dangerous this year because she's capable of thinking clearly especially on the one thing that was probably the most violent experience of her life, and also the biggest reason for her becoming a cop.
Beckett's not the perfect cop that she used to be. She gets suspended. How does that change her?
I don't think that Beckett's ever been the perfect cop. There have been moments where she's been rather rebellious. We've set it up that first season that she was by the books and I think that over the years it's come out that she might at first seem like she's by the book but she never was. I don't know that there's anything contrary to what's been set up. She's been a bit of a renegade, I think, throughout. Last year and the end of season three it was one of the reasons that we saw some of the conflict that we did on screen.
Beckett and Castle decide to keep their relationship a secret. What's Beckett's perspective on why she doesn't want any of her friends to know, other than the professional consequences.
I think it is about the professional consequences. I don't know that Beckett would be comfortable keeping something like that from people who are pretty much family to her. We discover that later on as we move on that it's something that they both want to protect and they want to keep it private so they can explore what it means first before having anyone else involved in it but it's also got a limit of being at work and being in the trenches with those guys at that police station, it's not easy to keep a secret from people who are pretty much your family and it will be a little bit of a struggle there but I think that she knows that it's for the best for the relationship and that working relationship specifically.
------------------------------------------------------------------------------------------------------------
CASTLE's Stana Katic on Beckett's New Relationship: 'Her Heart is at Stake With This Guy'
CASTLE's Castle and Beckett may have finally consummated their relationship after spending four seasons dancing around their feelings for each other, but their fans aren't the only ones thrilled to see what happens next.
"It's exciting," Stana Katic (Beckett) told me. "We've always seen Beckett on these peripheral viewpoints when it came to her relationships. I think that it's nice to see what it means to be that character from the inside of that relationship. I think there's a different quality to the character when she's vulnerable and involved physically and on a deeper emotional level with someone. So it's nice. It's been really quite a lot of fun to play."
"At this point, we're actually watching these two figure out what it means to be in a relationship with each other," she continued. "And it is different, definitely. She's sensual and sensitive and strong-willed and all of those subtle elements we've seen on-screen before, but it's amplified because there's more at stake. Her heart is at stake with this guy."
As if that wasn't enough for Beckett, the hunt for the person responsible for her mother's death heats up. And while Katic downplayed that this specific bit of information may change her character, she noted her character has evolved over the course of the show.
"It's not that the information changes her; I think she's changed," Katic said. "We've experienced these stories for over four seasons and it's been a real raw [experience] for her as the character becomes emotionally reactive. And now we see a character that is very much in control. And that makes her much more powerful and much more lethal. And because of that, she finds the person that was responsible for all of this. And because of that, she makes really clear, thought-out decisions that are dangerous; not for her this time, but for that person. It's very calculated and exciting, because it's a big leap for that character's arc. And it makes her much more lethal. We [originally] heard of the journey through Captain Montgomery, who had always told her, 'Hey, follow the evidence. Think clearly.' And she's finally there. I think it's really neat. She's kind of come into her full form in the past four years."
Looking forward to the future, Katic admitted her character is most concerned about Ryan and Esposito finding out about the new

romance

in her life.
"I think she's most concerned about her work colleagues finding out," she said. "It's difficult because she has wonderful relationships with these people; they're like brothers. And to keep that a secret from them is difficult. But also necessary because the work relationship with Castle is at risk if they don't keep it a secret. It's an interesting conflict we do touch on in later episodes after the first one. But it's a necessary conflict. There's also an element of a new relationship that they want to explore what it means together before they make it public because things change when you make it public. By keeping it quiet for a little while, they get to find out a little bit more about what it means to be dating each other."
Alas, the couple's biggest problem may come in episode six when Castle is suspected of murder.
"The most difficult part about that story is I don't think Beckett ever doubts that he's not the killer," Katic explained. "I think she is in tune enough with him to know that he isn't. I think the thing that is the question in her mind is the question of whether he was unfaithful. And Beckett met the man when he was signing someone's chest — someone's boob! — and she knows he has a history of two failed marriages and one-night stands and things like that. So Beckett being the one-and-done type would want to know the relationship means as much to him as it does to her. And that's where that conflict lies."
------------------------------------------------------------------------------------------------------------
STANA KATIC TALKS CHEEKY 'CASTLE' PREMIERE
It was a moment four seasons in the making, and one everyone agreed could no longer be avoided. But what lies in wait now that Castle & Beckett have spent the night in each other's post-coital arms? A lot of cheeky comedy according to star Stana Katic.
She was positively giddy while discussing the chain of events that gets kicked off with tonight's season premiere -- an episode that also serves up a pretty sizable clue in Kate's ongoing search for her mother's murderer!
TheInsider.com: What was your reaction when Andrew Marlowe [creator] told you that Beckett and Castle would finally get together at the end of season four?

Stana Katic: Good! [laughs] We just couldn't drag that tension out any more and have people stay invested in the relationship. These characters had gone through so much and it was time. I think it was a good payoff and the fans seemed to like it, which is always nice.
Insider.com: What excites you about playing Kate in this relationship?
Stana: As an actor, it's an opportunity to explore more of the character. We've seen Kate in relationships in the past, but it's always been from a peripheral viewpoint. Now we're in it with both of them. It's exciting because this is the kind of story that creates opportunity to understand the more intimate sides of a person, whether it's sensual or vulnerable. They are each other's best friends, they're working companions and now they're lovers. That's an extra shade that I think will add to some wonderful complications and subtext to things that traditionally go on in any kind of crime drama.
Insider.com: Some fans feel that last year was a bit too dark -- what do you think?
Stana: I think that we did a really nice job last year of exploring depths and some of the darker side of our characters – this year is equally exciting because it's cheeky. I don't favor one over the other, but I love that our show rides both ends of the spectrum.
Insider.com: Much of the heavy tone was set by Kate's search for her mother's killer. How much of that storyline plays out in the start of season five?
Stana: In tonight's episode, we get a massive piece of information. What's wonderful is, traditionally, I think Kate would have had more of an emotional reaction, but we we'll discover in the first episode that she's thinking very clearly and because of that, she's much more lethal. That's something Captain Montgomery was trying to teach her when she first started and I think she finally learned that. She's now much more dangerous to those people who killed her mother.
Insider.com: Should fans expect a resolution to that storyline this season?
Stana: There's a resolution of sorts, but that doesn't mean the story ends. It's that classic hero fights evil story. Batman always knows The Joker is evil, but it doesn't mean evil stops existing once you realize what it is and where it is -- you have to constantly fight it. What's exciting is that, for all the information she gets, she isn't going to jump at it in a thoughtless manner. She's going to think it through so when she does go to take it down, it's going to be final. It's going to be really powerful. But it's a really big mountain. It's not a small hill, so we're creating a new chapter for that story, but it's not necessarily the end for the whole story.
Insider.com: You've now convinced me Kate Beckett is secretly Batman.
Stana: Then I've done my job [laughs].
Insider.com: When you look at season five, what are you most excited for fans to see?
Stana: I'm genuinely most excited by how cheeky this season is. I think that the stories have their tongues firmly stuck in their cheeks. We're inside the relationship this season, we get to enjoy and savor what it means to be in a new relationship with two formidable characters. He's very charming, she's very powerful and they both have extraordinary points of view. Those viewpoints won't always be in alignment, and that adds a wonderful conflict. When you add the extra layer of lovers fighting, that's the best foreplay out there.
Castle airs Mondays at 10 p.m. on ABC.
-------------------------------------------------------------------------------------------------------------------------------------------------------------------
The star of the ABC procedural previews the show's "new flavor" with Castle and Beckett's new romance in an interview with THR.
After four seasons, Castle and Beckett finally made the leap. The big question on Castlebecomes: What happens now?

"It's been a lot of fun," Katic tells The Hollywood Reporter of the new season. "Obviously there's a new flavor to explore because Castle and Beckett are together, so it's been exciting. I'm looking forward to seeing people's reactions. Hopefully it will be something the fans will enjoy."When viewers last left the novelist and detective, the two abandoned the "will they/won't they" query that had been hovering over them for the past four years and laid everything out -- in bed.
Katic talks to THR about the opening moments of the season five premiere, the obstacles Beckett and Castle will be facing and why they "are definitely meant for each other."
The Hollywood Reporter: The season premiere picks up moments after season four left off. Where do we see Castle and Beckett in the opening moments and what can we expect?
Stana Katic: Season five starts off a couple of hours after season four ended. It's exciting because it's the first few moments of Castle and Beckett together, in a way. It's the aftermath of all of the wonderful things that have happened. Does this mean it's something real and how do they navigate through that? Then of course, the kingpin behind Beckett's mother's murder is still at large and that isn't locked up at the end of season four. We come one huge step forward on that story line and hopefully there is more resolution for the audience. Definitely there's a big payoff.
THR: What are the obstacles that Castle and Beckett, who has resigned from the police department, will be facing this season?
Katic: Every new relationship has obstacles. One of the wonderful things of two people getting together is them finding out how serious they are about each other so that's something these two characters will have to ride. Other people will come in and shake things up a bit. They also can't go public with their relationship because they would risk not being able to work together anymore and they obviously make a really great team. They're not willing to compromise that, so they keep it a secret. But keeping things secret is nearly impossible when you work with a group of detectives.
THR: How do their friends at the precinct deal with the pair's new dynamic? Who is the first person who figures it out?
Katic: At this point, everyone catches on that something's a little different about Beckett but nobody quite knows why. She's always been a very private character, especially when there's something at risk as big as losing Castle as a partner. I think she's going to play things a little closer to the vest than she would normally want to, especially with a group of people in the precinct who she considers her family. Detectives Ryan and Esposito are basically her work family. They all do a really great job of hiding [their relationship] from people they love; Castle less so, of course, because that's just the reality of living at home with your mother and daughter. [Laughs] For Beckett, the risk is too big.
THR: Do you foresee regrets that Beckett may encounter in regards to this new relationship or decisions that she may be making because of it?
Katic: I don't think her career will ever be affected. She's a working girl, she knows how to compartmentalize and be efficient. The things that will come up are the normal. Castle was divorced twice; what happened to those relationships? Is he the kind of lover, boyfriend, whatever it is they end up defining it as -- which we haven't clearly defined it necessarily -- is he the kind of lover who stays true? Right now, we're enjoying the new discoveries that new couples always have in the first couple of months and finding the neuroses that are common in a hidden, secret relationship. We're in the honeymoon phase and I'm sure [creator]Andrew Marlowe will be mixing it up soon enough.
THR: Because nothing can ever be too perfect in the TV world.
Katic: Nothing's ever perfect but these two characters are definitely meant for each other.
THR: What's the biggest question that Beckett will be facing this season?
Katic: A part of the growth is, as an audience, we're going to discover what Beckett is like ina relationship. We haven't really seen that side of her, the girl in Beckett, the one that doesn't have to be the alpha-female in the room leading the charge, solving crimes and being the authority figure. There's another side to the character that we've only ever seen peripherally with her short-term romantic interests. It's new territory for the writers, it's new territory for the cast.
THR: Is there a scene that you've shot recently that stands out for you in terms of significance?
Katic: There are a few bedroom scenes between Castle and Beckett that are a lot of fun and we'll just leave it at that. [Laughs]
THR: Castle is known for its themed episodes and fans particularly look forward to them each season. Is there an upcoming one that sticks out?
Katic: There's a Star Trek episode coming up. That's probably the one that pops most off the mind. It'll be coming up after episode five, probably seven or eight.
THR: You also took on your inner rock star in the film CBGB. What was your experience filming that?
Katic: My character is a producer and rocker in the club and it's based on a real woman, [producer] Genya Raven, who I got to meet in New York City. It's a fun romp in punk rock and its history. I'm excited to see the whole thing, it's a special piece and a part of music history.
Castle returns for season five 10 p.m. Monday on ABC.
------------------------------------------------------------------------------------------------------------
'Castle' Season 5: Stana Katic Says It's 'Naughty' And 'Fun,' Shows Castle And Beckett's 'Sensual Side'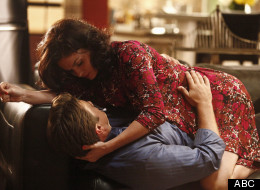 "Castle" is back (Season 5 premieres Mon., Sept. 24, 10 p.m. ET on ABC), and fans will finally get to see what happened after that fateful smooch between Castle (Nathan Fillion) and Beckett (Stana Katic) that was four seasons in the making.
I won't give anything away, I'll just say this: You won't be disappointed. And star Stana Katic agrees.
I caught up with Katic to talk about this new phase in Castle and Beckett's relationship, how much lip-locking we'll actually see, uninterrupted, and how long they can keep their relationship a secret from the rest of the precinct. She also talked about Beckett's new attitude when it comes to finding justice for her mom's murder, and how this season will have a lighter, more fun and, yes, even "naughty" tone to it. Keep reading for more ...
Last season's finale made fans, myself included, so happy. Having played one half of these duo for so many years now, how did you feel about the hookup finally happening?
Oh I'm very happy, of course. I think that we couldn't stretch it any further -- it happened at the right time. We have been on this journey with these two characters for four years, and they have been through every sort of danger and life-harrowing experience, and I think that it needed to happen. They had a rough year last year, of course … they were both keeping secrets from each other, thinking that it was in the best interest of the other person. It was great to see the evolution of the characters culminate in the two of them finally admitting their feelings for one another.
Because as much as we've seen their feelings for each other, as viewers, watching them keep those secrets to protect the other person really proved that this is real love. We know they love each other, but it feels more like love now.
Yeah, you're right. Andrew [Marlowe, the creator] did a great job of earning it, earning this relationship now. I think after everything that the writers built, we can justify exploring it for a while, which is exciting for me as an actor -- it's a different phase in the show.
And a different phase in Beckett's life. This season picks up right where we left off … well maybe a few hours and rolls in the sheets later. What can you tease about this new facet of their relationship in the premiere?
We see the sensual side of both of them, and we also see them being vulnerable with one another. It's very cheeky -- this entire season is tongue-in-cheek and naughty and fun. It's been really neat to explore and play with that, and to see these two people get to know each other better.
I love hearing that it'll be fun. It's that banter, that back-and-forth in their relationship that makes us love them together, whether they're together or not. The fans really just want uninterrupted kissing. How much uninterrupted lip-locking has there been?
[Laughs.] Oh my … people will be well pleased with the amount of physical interaction the Castle and Beckett characters have.
It's such a tight-knit group at the precinct. How long do you think they can keep it a secret?
It's really tough to keep a bomb like that quiet in a room full of detectives. It'll come out towards the beginning quarter of this season, and it's not exactly by choice. The episode that it comes out in, we'll have a bit of fun with it, which is kind of exciting.
Then there's the business of Beckett having quit, but we know she can't ever stay away from the job for too long, especially when it comes to her mother's case.
That was a driving force in her becoming a detective, and I think that the character has evolved from what she was in the first season. In the first season, when we did get to see inside of her, we realized that this was a really raw space and that, instead of having a clear view on that, she was emotionally reactive. The point that we're at now in the beginning of Season 5, we have a new Beckett. She is very much in control and very clear thinking. When she is confronted with the next layer of the mystery behind her mother's murder, and when she's given a monumental piece of information in solving the case and bringing that murder to justice, she is so clear and so focused that it makes her lethal. That's a new type of Beckett. She was originally just quote emotional when it came to that storyline, and Montgomery was always that voice that said, "Focus on the evidence. Stay clear. Think clearly. Don't get emotional." And it wasn't something that she could do easily. Now she's there and that makes her dangerous, for the bad guys.
I love tough Kate. Andrew also said that after such a heavy season last season, we'll get more levity this season. What other fun cases have you guys tackled so far shooting this season?
We will be starting the Star Trek episode soon and the director is Jonathan Frakes who played #1 on "The Next Generation." And we also have an episode that's kind of documentary style story. The gang comes upon a story where a documentary team was filming the murder victim, and they decide to follow the team as they are trying to resolve the case. Of course there's the added element of Castle and Beckett trying to keep their relationship secret while this documentary crew is following them around. We filmed it very much in the vein of "The Office," so there was really interesting. There's a lot of breaking of the fourth wall … it was funny getting used to playing with the camera and having the character be almost another character in the story. There are a number of episodes that I think will open up the storytelling and add some fun for viewers.
"Castle" Season 5 premieres Mon., Sept. 24, 10 p.m. ET on ABC.