JON HUERTAS IS COMING TO A RADIO NEAR YOU!
Guys! We went to the People's Choice Awards and came back with a new crush. Jon Huertas is kind of awesome.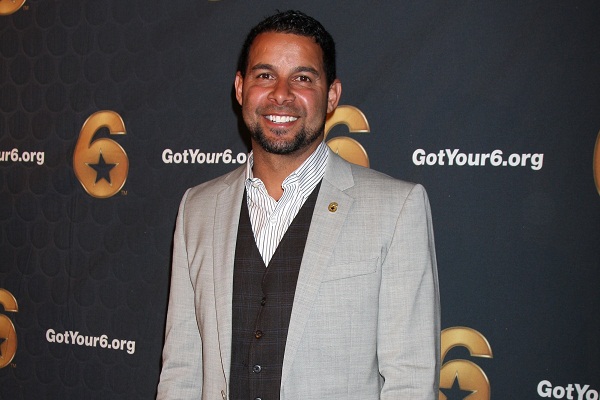 Everyone loves Castle — that's why it won the 2013 People's Choice Award for Favorite TV Crime Drama. On top of that, everyone also loves the man who plays Castle, Nathan Fillion, who won Favorite Dramatic TV Actor.
However, we think there is someone who's a little underappreciated on the show: The man behind the character Javier Esposito, Jon Huertas. We caught up with him for a few minutes on the red carpet and he was absolutely charming as we talked about plans to "celebrate" any wins by going back to work in the morning. We also found out he's got more talents than just acting. Check out our interview...
You heard right: Huertas is releasing an album. We recognize that making a record doesn't mean you can sing, so we decided to find support of his talent. YouTube actually has quite a few videos of Jon singing. This one is a little... dramatic, but it's hysterical, too. Plus, it features Esposito's partner and Huertas' acting buddy, Seamus Dever.
Pretty amazing, right? We thought so, too.
Plus, if you've got a hero complex, during our IMDb

stalking

research, we found out Jon's an Air Force veteran. Bada**!
If you're a little bit in love by now and want more than just Castle to get your fill of Huertas, we've got your back. You can get your easiest and biggest fill of the actor by watching all seven parts of Generation Kill. It's a little graphic, but a really good (and accurate) story about a group of Marines that led our invasion into Iraq. Huertas plays Poke, who always has an opinion or a great story to tell.
You also can find him in 12 episodes of Sabrina, the Teenage Witch (seriously) and episodes of NCIS, CIS,Cold Case and... Moesha. Oh, heck yeah!
Most important, though: Don't forget to watch Castle and to keep an eye out for Huertas' "urban pop" album in February.
Source