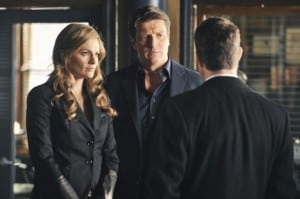 Oh, man. That was so good. That was so, so good.
Castle fans, prepare your little hearts for Monday night and stock up on Kleenex because, trust me, you are going to need it. "Target" is the first part of the annual two-parter that is so traditional on this show and I can say with absolute certainty that they brought their A game in this episode.
I don't know about you guys, but it seemed that these special episodes always dealt with major events that just kept getting bigger over the seasons. We started with a Nikki Heat stalker, then a dirty bomb in New York and then, last season, Castle and Beckett stopped a plot that would initiate World War 3. I mean, it doesn't get any bigger than that, right? That's what I thought so too.
But then they changed everything and decided to get personal. And it's really personal this time because it's Alexis Castle who takes the fall. Castle's daughter was in the wrong place at the wrong time and ended up being kidnapped too when her friend from college, an influential Egyptian's daughter, was abducted. I have to tell you, I have never really been an Alexis fan, but she is just awesome in this episode. Major kudos to Molly Quinn and I expect there is a hell of a lot more coming our way because "Target" ended in a heart stopping cliffhanger.
Also, Nathan Fillion. Just… wow. Standing ovation. It was so great to finally see him show his talent. My heart ached for the desperate father I saw on screen and I admit there were a lot of tears involved.
So, to sum up before I answer your questions, this was an outstanding episode. Best of the season so far, depending on how it plays out on the second part.
@Claruchi - How's Nathan in it? As good as Andrew said?
@CMcCord25 - Does the cliffhanger ending involve Castle?
@CourtOsen - Is there more pressure on the team knowing that it is Castle's daughter that is kidnapped?
Oh, absolutely. This is one of their own and they are going to do everything they can to find Alexis. The pressure is even harder on Kate.
@chevron_heart - Is it going to be a long, hard wait between the two episodes?
Yes. Major (and unexpected) cliffhanger ahead, guys.
@Beti_Always - Is Target the best episode from S5? Thanks!
It will all depend on how they handle the second part, really. But as of right now, yes. It was so good. Tense from beginning to end.
Source