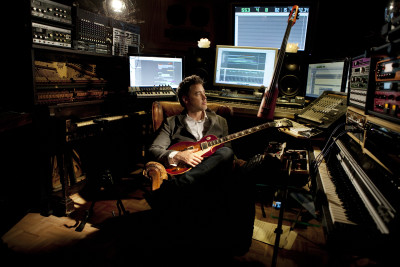 ABC's hit crime drama, Castle, stars Nathan Fillion and Stana Katic as novelist Richard Castle and detective Kate Beckett: one of primetime's top crime fighting duos. For five seasons, Robert Duncan has put the music to the show every Monday night. Duncan continues to sweep audiences under an instrumental spell masked by poignant moments throughout the series.
To catch you up on the series: Castle and Beckett are in a relationship that was caressed into action by Duncan's "I Just Want You" piece. Fans had heart attacks and are now slowly being revived through this past season of romance (and crime in NYC, because it is a crime drama…).

Can you first put into your own words what it is that you do and how you got started with Castle?
I'm a composer. I started writing music when I was in high school and made the decision to pursue it as a livelihood then. I moved on to receive a degree in music from York University in Toronto. About five years after I graduated I started apprenticing with some composers up in Canada, which was a really valuable experience for me because, up until that point, I had no idea what somebody who writes music did for a living. Even though I started out just watering the plants, I was watching how they went about getting work, how they dealt with their schedules. Then I made the decision to move to Los Angeles in 2001. I worked for a couple of composers out here and then I got a break on Buffy the Vampire Slayer. I got hired to score season 7 of the show. I had previously scored episodes on my own, but never an entire season. What was great about Buffy was that it was a very well oiled machine. I just had to observe and learn from the people around me about how to do my job the best. Buffy started my relationship with 20th Century Fox who produced that show. I was actually scoring Nathan Fillion's satanic preacher in Buffy so it was nice to see his face again when Castle came around. With Castle, the ABC music department was familiar with my work and suggested me as a good fit to Laurie Zaks (producer) and Andrew Marlowe (creator) when the show was in its pilot stage.
Do the actors influence what the music might turn out to be?
No, there's a pretty big divide, especially in television. Everything happens so fast. When one director is directing one episode, the next director is prepping the next one. Then post-production is busy in their world and production is busy shooting. Everyone is doing his or her part. The only people who cross all those boundaries are the producers. They are in charge on a television show. They are the ones giving me notes. I don't visit the set very much. I did, however, visit the set today for the 100th episode.

I saw that! How was it?
It's a treat. Every week I'm in that area doing spotting sessions – where I get together with the director, the producers, sometimes the writer, the music editor, the music supervisor, and the editor and we talk about how to cut, where the music will start and stop, etc. – but it's still fun to walk around the precinct. Rob Bowman, he's an executive producer on Castle, he also directs a lot of the bigger episodes.

It's always that team: Rob Bowman, Andrew Marlowe and Terri Miller. Fans love them.
Right. Terri hasn't written much this season. She took bit of a break. But she did co-write the 100th episode with Andrew.

How did you come up with the composition for "I Just Want You?" Did you know early on that this is what you wanted?
It's hard for a scene to exist without music. When we're cutting a show like Castle, the editor is always putting in "temp" music, which is either my old pieces or music from films. I have to wait until they finish editing to see what the episode looks like before I start scoring. The kiss, interestingly, was temped with the score I wrote for Montgomery's death scene in the hangar. As opposed to having some sweet, romantic strings, it had fire. I saw that and sat back and found it interesting that they were taking this angle. It's more about the energy and drive. That music for Montgomery getting shot was intended to be powerful and have a lot of emotion, but it wasn't a positive thing. And it was interesting, because when I first saw them kissing to the music of Montgomery dying, I felt like Kate was almost hostile. When she showed up at the door she was like an animal that was about to attack him – in a negative way. It was weird, but it communicated enough to me that they wanted a sort of primal passion to it. Out of all the scores I've written for Castle, I'm very happy to say that it was one of the more effortless compositions I've ever had to work on. I sent it in and they loved it. It didn't get a second draft or anything, which is wonderful for a scene like that.

That's interesting. Back when "Caskett" (the coupling of Castle and Beckett) was just a thought, I was thinking that something like "Power" by Kanye West would be a good fit. Not the lyrics, but the background.
It has that muscle in there. I love that song too. It's great. They used it in a trailer for a show I worked for called The Chicago Code.

I don't think I can imagine any other music to this. You said you developed the theme during "Always." Can we see it in other episodes? Or is it completely new to "Always"?
It's not completely new. Since the pilot, the producers have been referring to the piano as being one of Beckett's instruments. It's classy and refined. Castle's instruments are the African ceramic drums, the Mandolin – like Castle getting into trouble. It's quirky. So the music has evolved. It didn't come out of nowhere. Beckett did have some kind of piano theme, which is, what I would call a relative of the Caskett theme ("I Just Want You"). When Castle was investigating Beckett's mother's case there was a hesitant, repeating piano motif in some of those themes. And Andrew said to me after I wrote the kiss that one thing he really liked about it was that it felt like it summed up Beckett's past and brought it into a new territory. It didn't let go of her character and what has brought her to this point.

Are we going to see it in future episodes?
Yes. Absolutely. It's their theme. I'm not tired of it.

I'm not sure anyone is tired of it. Do any of the other characters have themes, maybe some of the smaller characters?
Not everyone has a specific melody. Andrew sometimes says to me, "Oh this is this person's instrument," and so on. With Alexis, I would say it's also piano-ish. Martha doesn't have anything specific. Ryan and Esposito have a little more electric piano. It's not really a show where everyone has a piece that follows. It's all music, but there are some instruments that are more appropriate for some characters.

With "I Just Want You," there's a clip going around Youtube where the music is stripped off and we just have the actors acting. I felt like I was imposing on them as people instead of watching a television show.
Even when we're editing a show, the picture editors, they know the scenes don't make much sense. Some shows operate without music; other shows are heavy on the music. Castle is music heavy, but it's not wall-to-wall. They have a formula. A show, without commercials, is 42 minutes. The producers always ask me in spotting sessions how long the music is going to be for a certain episode. Usually anything over 32 to 33 minutes is too music heavy. And if they spot too much music when they watch the final playback – just before it airs – they will start pulling stuff out.

I know for certain shows, like American Horror Story and Downton Abbey, music is a very prominent, almost as a character.
You know, I've heard people say that music is a character. I've pondered it, and I would say that music affects the overall disposition of a show. I was working on a couple shows at once: The Unit, which is a military show andCastle. I had to switch gears when I would go from Castle to The Unit. I have to tone it completely differently because that's its personality. It's part of the show's identity. I don't know if it's the same level as a character because it kind of reaches all of the characters. But it definitely has a presence and a strong impact, just as a character might. But it's not designed to be noticed as much as a character. Part of my job is to manipulate the viewer without getting caught. If I want to sell you something, I'm much more effective if I make you believe that it was your choice to feel a certain way. If I'm aggressive and I'm trying too hard, then my influence has been lost. It affects the "musical fashion" in scores. If we get too used to the music for when a bad guy is coming, I'm going to change it a little so it doesn't quite announce itself as much. And some things are specific to certain directors. Melodies – some of them love melodies. Others feel that it's a bit old fashioned. In the case of Castle, Rob Bowman (executive producer) really dislikes conventional strings. But there are certain exceptions he makes. Scary violins? No problem. Low strings? Fine. But he says, with good point, that strings and violins are the basic sounds of a score and he feels that it might get a bit tired after a while. But this leaves me of a problem with what to do instead. Truthfully, there's nothing like the strings. Like the phenomenon of having 50 or more people in a room all playing with different vibrato and that magic happens in the air – I don't think anything compares to that.
I think the latter part of this season will be outstanding. I think we need to get to 100th episode for it to just blow everyone's mind.
Right. This is my favorite season yet. I think they're so on their game: the writers, the directors. Everyone.

I think fan's response to that is their People's Choice Awards voting sprees. We've watched this "little show that could" break out.
I do feel like it is the little show that could. When I was watching the pilot I wasn't sure what direction it was going to take. And I give a lot of credit to Andrew and Rob for being very confident behind the wheel and ABC. There are a lot of factors to it. But I've been on many TV shows that only lasted 13 episodes or a season and then they go down. I was really happy to see this one continue.

I was watching your special on the Castle DVD when you were scoring last season's two-part episodes, ("Pandora"/"Linchpin"), when Beckett and Castle are thrown into the Hudson River. You use some interesting instruments.
If I use weird solo instruments by themselves, it's a very intimate sounding score, and often with Castle, I need to create a sound of a bigger type. I use sample libraries in lieu of real orchestra. I do use real solo instruments often, everything from pianos, to taiko (Japanese drum) to air conditioning ducts and junk I found at a nearby salvage yard. Every minute that goes by of score I've sat here staring at it for about three hours. I'll usually sketch out the rough framework of scene in my control room, and then record myself improvising in the live room to add the organic details. I'm still thinking, "What is it that I need to make the audience feel." Once I've figured that out, then I just need to find out how to get there. If there's a sad scene where you're meant to cry, I have to make myself cry or else I feel like if it's not working on me, then it's not going to work on you.

I think music in film and television makes me cry more than the actual plot.
One interesting movie that I felt was the perfect example of how music can play a hand in making you cry wasTitanic. You went to see Titanic and you were told to bring a box of tissues with you. I think that was really James Horner (composer of Titanic). One of the key things that they did right was that they waited. They let the story, the characters, and the situation bring you to the verge of tears and then they unleashed the music on you. At that point your senses were already weakened. If they started out with the music telling you how to feel, it wouldn't have had the same effect. It's better to let everything else lead, I find. If the score is leading too much than often it is less effective.

Do you have any favorite scores?
Sure. There are tons. I like a lot of music. I've always thought Christophe Beck (Pitch Perfect, The Muppets) was really talented. He was one of the original Buffy composers. I like what I hear from Trent Reznor and Atticus Ross (The Social Network). Some were surprised that that kind of music could get an Academy Award, but I felt it was justified.

Just recently Life of Pi won.
Yeah. Mychael Danna is amazing.

I enjoyed Amour and Lincoln's scores. But these were different from Life of Pi. These had long, dramatic orchestrations.
I think the Academy favors things that will bring something new to the table. They have a history of nominating and awarding composers from other genres like Tan Dun from Crouching Tiger, Hidden Dragon. Trent Rezner surprised some people. I think Tyler Bates from 300 is great. I like Howard Shore (Lord of the Rings, Hugo). The Matrix was a very influential score when it came out. I also like old and classical scores. Those people could write a beautiful love theme. I like James Newton Howard (The Village, The Hunger Games).

Back with Castle, is it renewed for a sixth season?
I'm going to be shocked if it's not. They always wait until the last minute. I'm hoping they will give it an early pick-up, but pilot season is underway. And when pilots are done by the end of April, then they will make up the fall schedule by May. They usually wait and see what they have to pick from the pilot department. I'm sure it would be an upset if it weren't picked up.

It's been doing well, especially with the February sweeps episodes that just aired. I'm looking forward to the next season because their relationship can only go through so much. I think most of the fans would collectively have a heart attack if they broke up. So we're going to have story lines approaching the "proposal" and "marriage" direction.
I didn't think that far ahead. I really don't know what they are thinking (the writers). Sometimes I can say, "Well, I need to know how to be scoring this character," and I might be able to squeeze information. But they keep their secrets very close.

It's the same way when fans would ask Andrew Marlowe if Castle and Beckett would be getting together. There was really only one answer because otherwise it would have been a really disappointing series. I can only see it going in this direction and there's going to have to be music to these upcoming moments…
I can guess that, if something like that were to happen – of course I have no idea what direction the show is taking at all. All I know is episode 5×17. However, my starting point would be the "Caskett" theme and some kind of reinvention of that. But sometimes I'll dream up concepts and ideas. You don't know how it fits until you try it on. If the music is good, it will stick.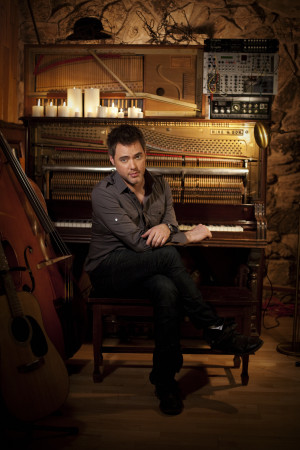 I imagine the music will have to continue to mature with their relationship. Seasons one and two are different from seasons four and five. If we're lucky enough, six and seven will probably differ from the previous ones.
I'm going along for the ride too. I'm just a week or two ahead of you. For me the function of the music isn't really to intellectualize anything. There's a trigger that will make you feel comfortable or uncomfortable, secure or insecure, sad or hopeful. I find that if you have movement in the bass, you feel like you're going somewhere. It feels like conclusions and answers. High notes are like question marks. Sometimes Andrew will say he likes how the tempo doesn't resolve in places. And, actually, in "I Just Want You" I originally didn't fully resolve that final root chord. Andrew said that he really wanted to feel it when they walked away, hand in hand. He wanted that closure. So, instead, I put in a big, major chord and closed out the piece. It's those little things that say we're moving or an answer. In school we learn that John Williams chose those low notes for the shark in Jaws because our brains know that deeper sounds resonate from bigger objects. We can feel that in this sound. The shark itself has a voice. You couldn't play the Jaws theme on Piccolos. So there are certain subliminal, subconscious elements that I work with.

In the beginning you were saying that you were in your world and the actors are in theirs. Do they communicate with you about the score?
There were a couple occasions where I had communicated with the actors. The very first thing I did after the pilot was write a song for Castle. It was almost his superhero theme song (Fans, think: Pa na na na na na – ring a bell?). One of my favorite moments was when I got to orchestrate Castle singing that into the score. About the same time we were trying to figure out what the Castle theme was. I didn't have an opening theme for the pilot – a lot of pilots don't have opening themes yet. One of my concepts was to have Nathan Fillion sing a theme song, but as Rob Bowman put it, Castle can strip the cool off of anything. So I had him singing along, kind of like a "Boom Shakalacka" thing, and when I brought it to them, I said, "You're either going to hate this or you're going to love this." Turns out they loved it, but ABC didn't. But I did record it with Nathan. I also did some work with Martha (Susan Sullivan). She sang a song in the early episodes and I worked with her over the phone because they were still in New York instead of L.A.

What about the "Blue Butterfly"? My grandmother is 87, and she said it was the most realistic portrayal of the 1940s that she has seen.
I listened to some old scores and did some research. Talking about musical fashion, I had to get into that mode. They really knew how to make the score flourish in a dramatic way back then.

Especially at the end.
Exactly. The very last shot always has some drama. And I was in that episode. They cast me as the piano player. I think I showed up at 4pm at this nightclub that they were shooting at. And we shot until 4:30 in the morning. It was quite the experience.
It was very interesting to see that world. I'm usually in post-production. Producers and directors tell me when they watch a scoring session, they say that I build the music just like they build the picture: piece-by-piece.

Did you work with Tamala Jones when she sang "Comes Love" in that episode?
I did. We were recording her in a nearby studio.

I read that she was nervous, but she sounded great.
She's wonderful. It was interesting to see someone who's so natural in front of the camera and take them away from it. Same with me; I was slightly terrified. I thought I would just have to bob my head and pretend like I was playing. But when I got to set and they had the camera all set up to go across my fingers. My heart started beating. I knew I had to know the music but now I really had to know it. But it turned out fine. I was just in there for a few seconds in the beginning of the show. And there's another moment.

Did you have to go to costume?
They cut my hair. They shaved the sides. They greased it back. I asked to make it a little cooler, but nope.

Are there any other episodes that stick out in your head?
It's such a treat to work on this show because of the variety. I have no idea if it's going to be light or serious. It gets into some epic, cinematic type storylines.

Our next episode is the horror one. Where Castle finds a cursed DVD.
So you're saying my next meeting is about a horror show. The last thing I did was the last thing you saw.

Okay, well we saw the preview for it.
There's always a funny feeling in the pit of my stomach when I am nowhere near finished with something and I'm watching previews for it on television.

I think it's based off of The Ring.
Oh really? For whatever reason I have this week off. I've got tons to do, but I'm thankful that there's some down time to come up and breathe. When it's back-to-back – seven days a week – it's nice to have a break.

I was wondering, since the last theme for Loco Mag was "favorites," if you had any favorite series, films, books, etc.
I don't really watch TV because I don't have the time. Shows that I would watch if I did: The Walking Dead, for sure, and then I'd catch something like Homeland. I want to see House of Cards and all the cable shows that are getting good buzz. I'm watching TV all day so when I get home, I don't want to. I have a couple of kids so I like to spend time with them. I want to do something with them that isn't connected to TV.

Is there anything else that you would like our readers to know?
I'm just starting a new project – Beverly Hills Cop – the series. It's a pilot. If it gets picked up it will be on CBS. Eddie Murphy is in it. He will reprise his role but the show will focus on his son.

And you're sticking with Castle…
I'll never leave Castle. Lots of love to all the Castle fans. You make it all worth doing.